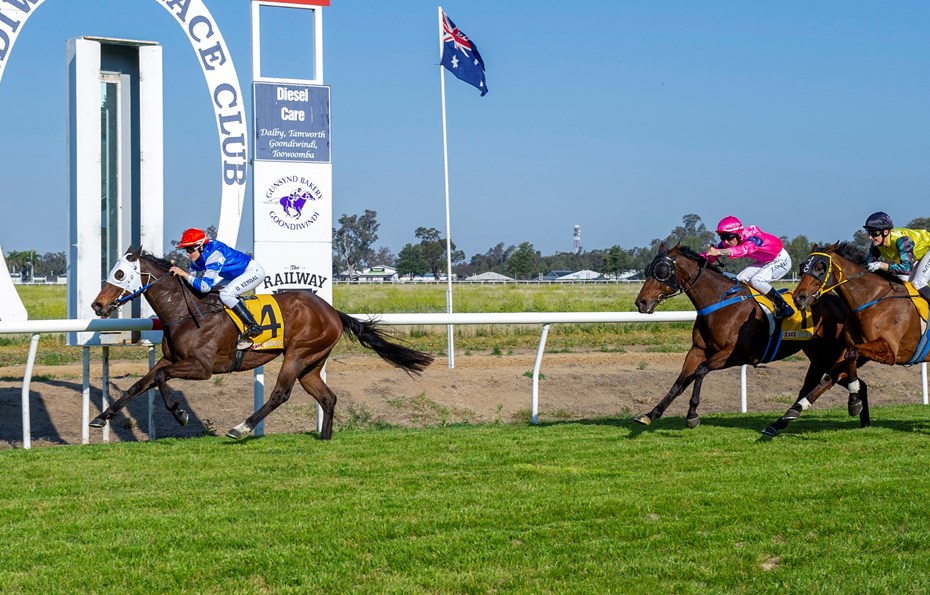 Legendary race caller John Tapp to attend Goondiwindi Cup
Mon 20 March 2023
Legendary Sydney Race caller John Tapp will be guest of the Goondiwindi Race Club at the re-run of the Vern Kleinschmidt Goondiwindi Cup on Saturday April 29 and guest speaker at the Gunsynd Celebration Dinner on Friday night April 28 before the races at the Royal Hotel.
It all forms part of a "Back to Goondiwindi Weekend", a four-day holiday for all Goondiwindi residents.
It all came by virtue of the fact that the Vern Kleinschmidt Goondiwindi Cup was washed out in September.  The Club was keen to stage the feature Race and Racing Queensland offered the April 29 date as one of the few available dates.
"At first we had some reservations about going on a long weekend, especially Show weekend, but on weighing it all up, the Club could see an advantage and we hope with the full weekend program on offer, we will draw more people back to Goondiwindi replacing those that head off for a four-day weekend", Race Club treasurer Graeme Scheu said today.  "Especially when we closely looked at the History of the great Gunsynd. The coincidences are extraordinary".
The weekend will commence on the Thursday night with the Aspect Art Show.  This has already proved popular and will once again be a great night.
The Show starts Friday and continues onto Saturday night with a wide program to suit everyone including Friday night and Saturday night fireworks, entertainment and Rodeo.
History will be relived on the Friday night at the 50-year celebration of Gunsynd's last start.  On April 28, 1973 Gunsynd set foot on a race track for the last time.  Unfortunately, the fairy tale was not complete when New Zealander Apollo 11 beat the Goondiwindi Grey as a 10-9 favourite. 
What is even more ironic is the Vern Kleinschmidt Goondiwindi Cup will this year be run on Saturday April 29.  And history will show that Gunsynd passed away on April 29 1983 at 16 years of age. Incredible coincidence – it will be 40 years to the day since his passing.
"So, we simply could not miss this slice of history and let it pass us by" Scheu said. It is a once in a lifetime event.
The weekend will be supported by all four families of the original owners and a lot of family and friends will make their way back to Goondiwindi to catch up with old friends.
And with the wonderful entertainment offered at the Show, it will give visitors a chance to experience a quality country show and regular racegoers are encouraged to head to the Rodeo after the races for a great night out.
It was hard work attracting a special guest that had some relativity to the era.  Both trainers have passed on, all four owners have passed on, the original breeder has also passed on.  A number of jockeys were successful on Gunsynd and most of them have also passed on. So, the choices were limited.
An obvious choice was the first lady of racing, Gai Waterhouse, daughter of Tommy Smith but unfortunately Gai had been contracted to Racing Queensland for the big Rockhampton slot race. Gai has sent her apologies and will send a personal message on the night. Two jockeys still alive are Larry Olsen & Kevin Langby, both of which have pre booked medical procedures for that time. Walking Gunsynd encyclopedia, Mark Oberhardt, also has a knee replacement booked as well.
"So, I could not believe it when Tappy rang back and said he thought he could make it work". The celebration was now complete.
Tickets for both events are now on sale, but due to the sheer number of family, sponsors and connections, tickets to the dinner are limited and won't last long. There is one table of 10 and one table of 6 with about 40 individual seats that will be placed on certain tables. Cost is $85 pp and bookings can be made on www.trybooking.com/CGMLV
Tickets for the races are $10 general admission and are also online on www.trybooking.com/CGKYS
Patrons requiring reserved seating and catering packages should contact Maurie Hayes on 0428 987 522 or Mary-Jane Thompson on 0427 299 080.  Already the club has fielded enquiries for birthday parties and social groups so a reasonable crowd is expected.
After the races, everyone is encouraged to support the night time entertainment of the Goondiwindi Show. The full Goondiwindi Show program is available on www.goondiwindishow.com.au
So, its all roads to Goondiwindi at the end of April. The great Goondiwindi Grey will receive one more tribute and friends old and new will reunite to relive those great memories.